The RX was first imagined back in 1993 by Toyota Executives. Development of this new luxury crossover really took off in 1994, and by the end of 1995 the final design had been made. Right from the release, the RX became the best-selling model in the Lexus lineup, accounting for 50% of all sales. The RX 300 basically created the luxury crossover segment and it remained on sale for five years before competition had really started to increase. At that point, Lexus brought out their second-generation RX which was designed to be larger and more powerful while also being more efficient and affordable. A minor change was applied to the second-generation RX in January 2006: the 3.3 L engine was traded for a more efficient 3.5 L and it became the RX 350. The third generation RX started production in 2009 and a small refresh in 2012 introduced the spindle grill. The most recent generation of RX became reality in 2016 with a more aerodynamic body style as well as an 8-speed transmission and longer wheelbase which noticeable improved the ride quality.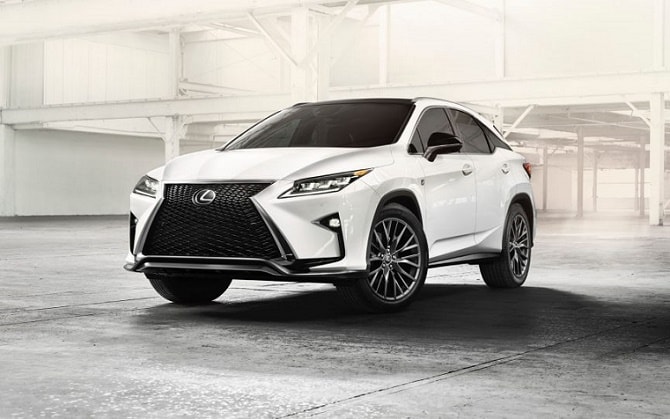 Here are five reasons to buy a Lexus RX that apply to every package:
#1 RegularFuel
Nearly every luxury automobile on the market today recommends premium-grade gasoline. However, the Lexus RX is one of the only luxury SUV's that uses regular fuel, which results in huge savings each year.
#2 Clearance
This SUV is perfect for multiple terrains with an average clearance of 8.2 inches.
#3 Lexus Safety Systems +
The 2018 Lexus RX, along with every other 2018 Lexus, is equipped with Lexus Safety System+. Designed to help you prevent collisions, LSS+ scans for hazards and actively works to avoid them using four innovative systems: Automatic High Beam, Lane Departure Alert, Dynamic Radar Cruise Control, and a Pre-Collision System.
#4 Nitrogen filled tires
The oxygen contained in normal air to fill tires harms rubber and other tire materials. National Highway Traffic Safety Administration (NHTSA) tests confirm that tires filled with gas mixtures containing more than 90% nitrogen preserve their long-term durability better than air-filled tires. Nitrogen filled tires also drastically reduce inconsistent tire pressure, which is essential when driving in inclement weather conditions.
#5 Heated back seats
Not only are the front seats heated and cooled, but your back-seat guests are also taken care of with heated seats!
More Room for Luxury
New in 2018, Lexus has introduced the 6 and 7 passenger version of the RX 350. This vehicle is perfect for people that have growing families and need a spacious luxury SUV. In the past, people would have to jump up to a V-8 engine or sacrifice reliability by choosing another brand to fill this void in the market. This RX 350 L is 4" longer than the 5-passenger version but does not sacrifice styling and is still quite fuel efficient.
These are not the only reasons to buy a Lexus RX and there are other packages that include many other features. For more information, view our online inventory or give us a call and book a test drive today!